FACADE SCAFFOLDING - MODEL RR-0.8 PIONART TYPE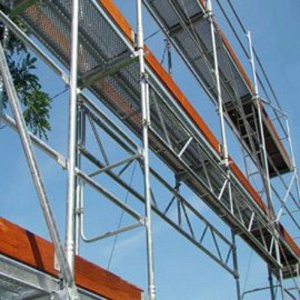 Facade scaffolding PIONART type - model RR-0,8 has been subjected to static calculations (in typical sets up to a height of 60 m), made by long-time employees of the Faculty of Construction of Lublin University of Technology, and successfully passed laboratory tests at the Institute of Mechanization of Construction and Rock Mining in Warsaw, and then received a safety certificate B No. B/02/003/12. The scaffolding also has a Certificate of Protection No. 65504 issued by the Polish Patent Office.
The scaffolding consists mainly of steel components permanently protected against corrosion by hot-dip galvanizing.
FEATURES OF MAJOR COMPONENTS:
FRAME
For the racks and frame cups, we use S355JRH grade steel tubes with significantly increased strength parameters (yield strength at 460 - 470 MPa). Thanks to the use of such a good material, it is possible to use pipes with a wall thickness of 2.7 mm, as allowed by the latest European standard for scaffolding: PN-EN 12810-1:2010.
The frame in the described design is about 2 kg lighter and has better performance than the traditional one made of S235JRH steel. The latches for attaching handrails and bracing are subjected to the process of thermodiffusion galvanization - a method that allows to obtain a latch surface of incomparably greater smoothness.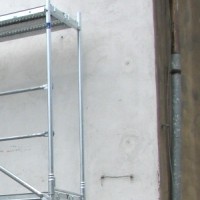 STEEL DECK
Thanks to the use of roll forming technology and material with suitable parameters, a special shape of the deck with an anti-slip layer was obtained, characterized by high rigidity and strength, with relatively low weight.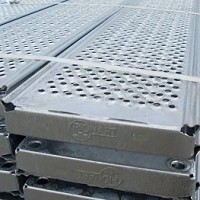 COMMUNICATION DECK
Vertical communication on the scaffolding is possible through the use of aluminum-plywood communication decks with a manhole and ladder. We use waterproof, non-slip plywood with a mesh imprint on one side (certified to DIN 68705, E1 emission class certificate) for the production of decks. The use of a smooth aluminum profile protects the decks from belt damage during transport.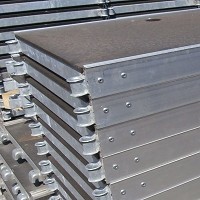 HANDRAILS
The handrails are made of pipe with a diameter of 38 mm and a wall thickness of 1.8mm in S235 grade. The production technology includes crimping of pipe ends and trimming to size using eccentric presses, followed by hot-dip galvanizing, which is the only method of corrosion protection that guarantees permanent protection (we do not produce handrails from galvanized pipes!).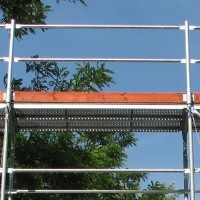 STAIRWELLS
Aluminum stairs, together with stair handrails and other fittings, are an excellent alternative for making a safe and convenient communication riser on a scaffold. Detailed description of the staircase of facade scaffolding PIONART type - model RR-0.8.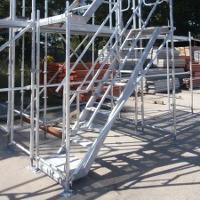 Moreover, the system includes all the components of standard kits required by law, as well as a number of additional components, such as consoles, modular consoles, dodge frames or angle platforms, the use of which allows installation even in the case of a complicated floor plan or building mass.