GALVANIZATION PLANT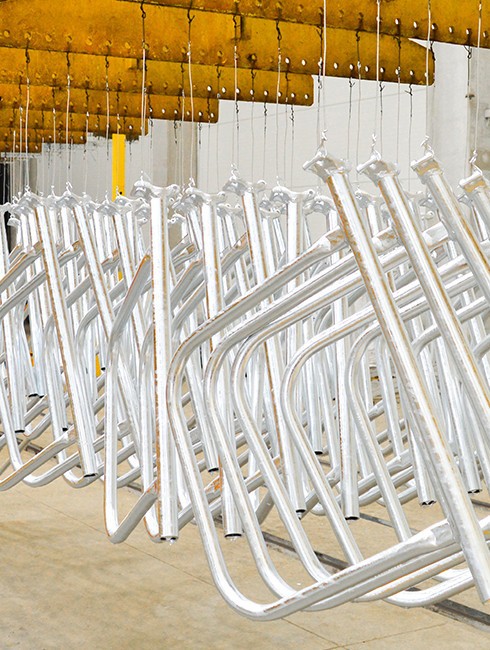 In 2020, we opened our own galvanizing plant, thus gaining independence and real influence over the quality of the goods we sell, from the design itself to its final implementation. We now also provide external galvanizing services, which are a guarantee that steel will be protected from corrosion for many years. The 7,000 x 1,400 x 3,000 tub allows for galvanizing a very wide range of products.
Hot-dip galvanizing is one of the most effective methods of corrosion protection for steel.
The protective zinc coating on the surface of the component is formed by the reaction of iron with zinc, which produces an iron-zinc transition phase. Bonding of the protective layer to the steel is already formed at the chemical level. Such a coating protects the steel through a special electrochemical system, plus it is impermeable, durable and mechanically strong.
PROFESSIONALLY PERFORMED HOT-DIP GALVANIZING SERVICE ENSURES THE EFFECTIVENESS OF CORROSION PROTECTION TO THE END OF THE USE OF THE STEEL COMPONENT FOR MANY YEARS.
GALVANIZING PROCESS
DEGREASING
The first step is degreasing, the purpose of which is to remove all fats, oils, and waxes.
ETCHING
The purpose of etching is to remove rust, scale, and other residues of corrosion processes.
FLUXING
Immersion in the flux ensures the proper course of the reaction when the workpiece is immersed in molten zinc. Flux enables the formation of an iron-zinc alloy layer.
DRYING
The last but one stage is drying, which evaporates the remaining liquids from the previous stages.
GALVANIZING
The actual galvanizing process involves immersing previously prepared components in a galvanizing bath filled with liquid zinc. Atoms of liquid zinc, which has a temperature of 445⁰C to 455⁰C in the zinc bath, react with the outer layer of the steel, resulting in an iron-zinc alloy. Thanks to hot-dip galvanizing, we get a protective coating both on the outside and inside of the component.
Hot-dip galvanizing is an ideal method of protecting steel structures exposed to the weather. The coating thus protected is unaffected by a very wide range of organic agents such as gasolines, solvents, oils and alcohols.